Dry Vacuum Pump

For this project POSS Limited was awarded the prestigious SMART Award, a DTI funded programme for technically novel products.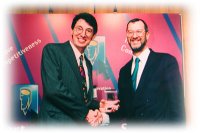 This innovative design uses a magnetically actuated tubular Diaphragm made to ripple along a concentric shaft, it is this wave motion that gives pumping action. Because the Diaphragm is tight to the shaft there are no leakage paths as with conventional peristaltic pumps, enabling its application as a vacuum pump. You may have wondered about the movment of the POSS Limited logo on our web site, this represents the peristaltic motion of this unique Wave pump.

The design has been patented internationally, and the development of non-vacuum applications is now on going.